Frequently Asked Questions
Need help? Be sure to visit our support forums for answers to your questions!
A: Profit First Professionals is a family of the most elite accountants, bookkeepers, and business coaches, who have helped drive profit in over 100,000 companies worldwide. Our mission is to Eradicate Entrepreneurial Poverty.
A: There are so many reasons! Only Certified Profit First Professionals receive expert training developed by Mike Michalowicz, the author of Profit First, and Profit First Professionals co-founder Ron Saharyan. Through this training, you will learn how to implement Profit First in any business. You will receive guidance on how to market and sell Profit First offerings in your business. And you will have the distinct advantage of leveraging the Profit First and Certified Profit First Professionals branding.
A: No. No university will hand out degrees or certifications without testing you understand and can successfully use the material. You will be allowed to display a Certified Profit First Professionals digital badge not because you bought it, but because you earned it.

What we will guarantee is a top notch learning experience and help through the process. If you do the work, set aside your limiting beliefs, and don't stop when things get difficult (and they will get difficult,) your certification will be an asset in your business. 
A: Absolutely! We would love to have a conversation with you before you decide to invest in certification, though. Please send us an email at support@profitfirstprofessionals.com or call us at 855-802-2994 and ask for Ron.
A: In order to download the certificate in Safari follow these steps.
1- Go to Safari's menu and click Preferences. See the image below.
2- Go to 'File download location' and set the download location as 'Ask for each download.'
3- Go to the 'My Courses' page inside of Profit First University and click 'Expland All'.
4 - Scroll down the certificate you want to print and click on the certificate icon.
5 - When the download location and Save As box pop up, delete the HTML at the end of the certificate name and choose the location where you would like the certificate to save.
Done! Your certificate can now be found wherever you chose to download it.
A: Your username is the email address. If you have multiple email addresses, determine which email address has been receiving your course emails and use that email address to log in.
If you still can't figure out your username, click on "Contact Us' and send customer service an email.
A: No problem. Just go to Profit First University and click 'Log In'. Once you are on the Login page and click on 'Send Me My Password'.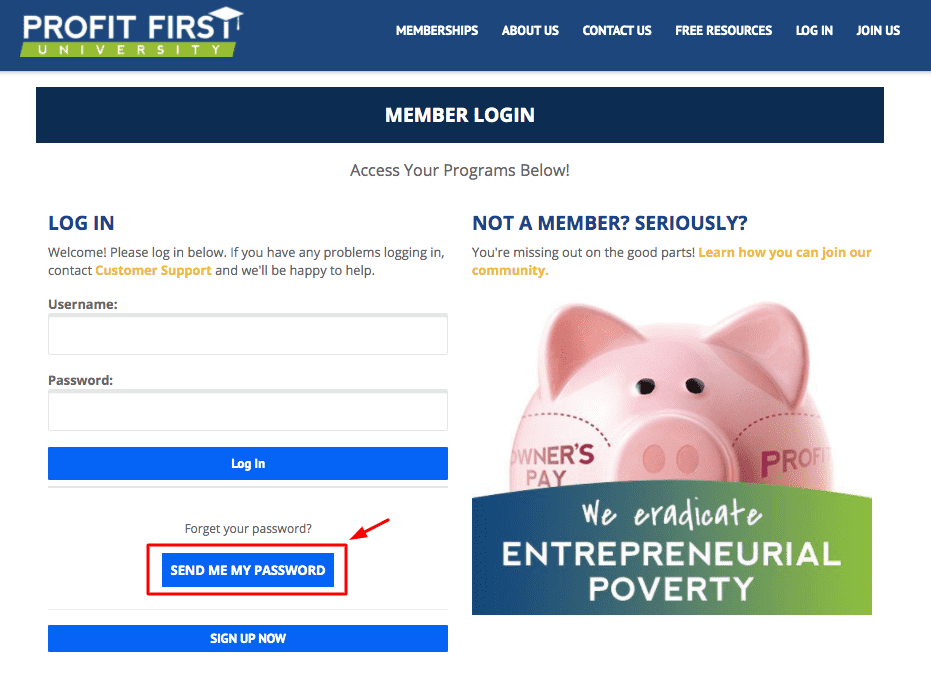 Once you click on 'Send Me My Password' it will lead you to a page that asks for you Username. Enter your Username (the email you use to log into the site) and click the 'Get New Password' button.
Next, go to your email. There you will find an email inviting you to reset your password. Click the link in that email and change your password.
A: You can see your progress in two places;
You can log into the course and look at the sidebar titled 'Progress Bar'.
You can also go to 'My Courses' under the 'Members' menu header. Scroll to the middle of the page and click on 'Expand All'. This will show you the progress for all of your courses.
A: There are two types of badges that you can earn as you complete a course.
There are progress achievement badges that are awarded when you complete a lesson or a module. These badges are found in "My Achievements" under the "Members" header.
The course completion badges are digital badges that can be shared on your social platforms, linked in your LinkedIn Certifications, added to your email signature, and/or displayed on your website. The course badges are awarded when you complete a course. These badges are found in "My Achievements" under the "Members" header.
A: These badges are found in "My Achievements" under the "Members" header.
1. Click on the Digital Badge you want to share on your social network.
2. Click on the icon on the bottom right side of the Digital Badge Evidence page to link to your network.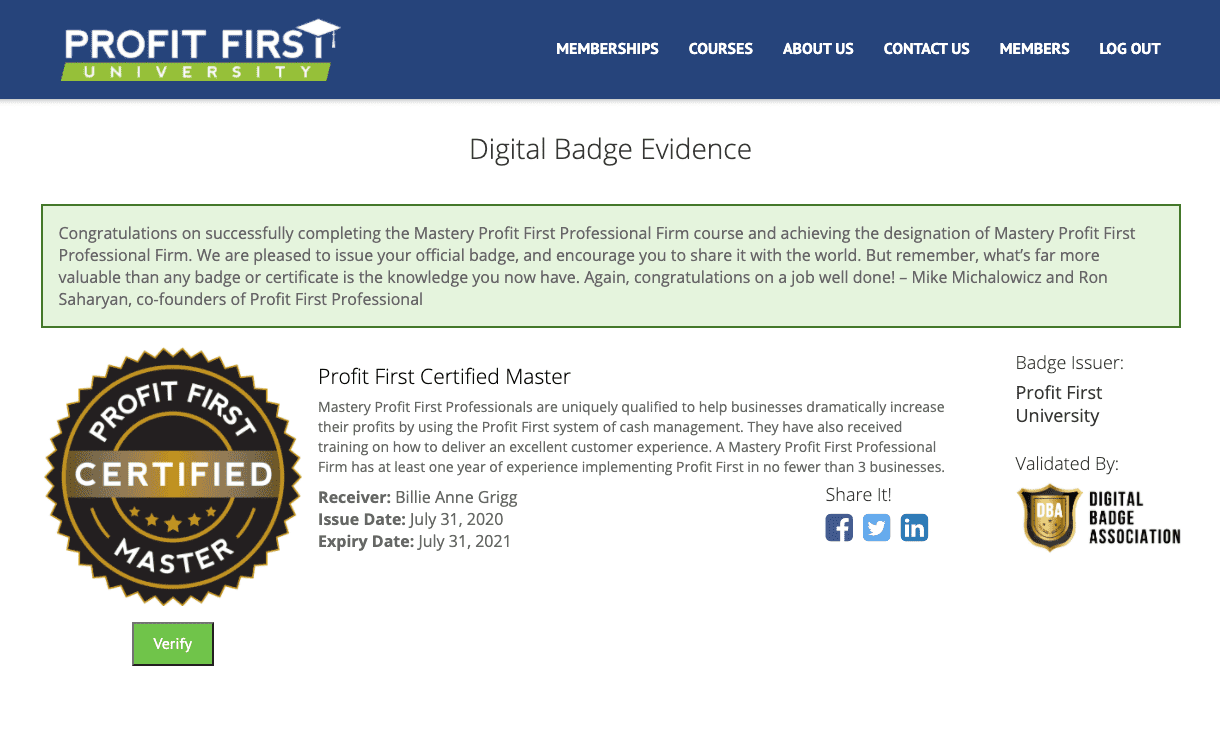 A: Yes, you can change your email in our system. Please click HERE to go to the email update web page.